Bethel, Maine - Andree Kehn Wedding Photography
by Andree Kehn
(Bethel Maine)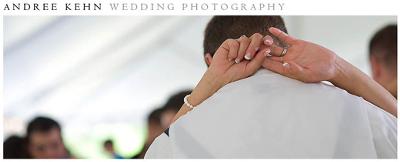 You are a unique individual. You have found the most magnificent person in the whole world and you are getting married. Congratulations!

Most likely, this is first time that you commission an artist to document a day in your life. It is a big deal. You're looking to work with someone who respects your vision.

I am a wedding photojournalist and spend my time documenting your day as it actually happens.

Note: This is a free listing that I offer our Maine vendors and venues. Please be sure to connect with them directly to answer any questions that you might like.
Join in and write your own page! It's easy to do. How? Simply click here to return to Submit a Maine wedding photographer listing.
Copywrite 2011 Maine-wedding-ideas.com