Functional Artistic Coasters by lclenterprises
by Lori Caron-Nickerson
(Gorham, ME)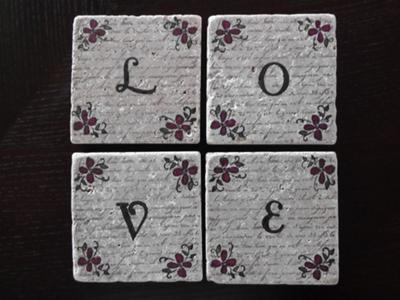 LOVE message tumbled stone coasters
For each tumbled stone coaster I create; I hand pick through the tumbled stone tiles to be sure that I am only using ones that have few large blemishes. I then apply various stamps using a solvent ink that will not wash off. I then hand color certain coaster designs that allow for that to add an interesting touch. I also distress most of the scripting work to be sure to give them an old-style look.

My tumbled stone coasters are not sealed with any type of product. This allows them to be able to naturally absorb the moisture that inevitable forms on those glasses of cold beverages on a hot sunny day! Don't worry though...you will be pleased to find that you can hold the coasters under running water and wipe your fingers across them and the image will remain unchanged.

You can also use them as trivets as well! Place a few together on your table for those large pans that you take out of the oven.

Due to the nature of stone and the fact that I hand stamp, color and distress my work; no two coasters are identical.

My stone coasters are sold in sets of 4 and come with felt bottoms to protect your furniture.

Feel free to visit www.etsy.com/shop/lclenterprises to check out my online shop!
Join in and write your own page! It's easy to do. How? Simply click here to return to Maine artisans and crafters listing.
Copywrite 2011 Maine-wedding-ideas.com