Henning Porcelain
by Michelle Henning
(Harpswell, Maine)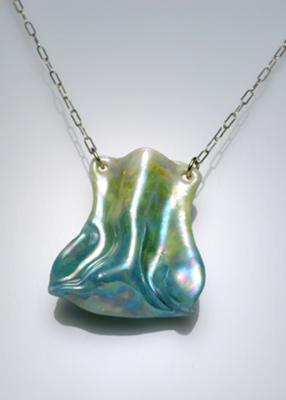 Pouch pendant on a sterling chain with sterling clasp
Hand-crafted fine porcelain jewelry in lustrous glazes with sterling silver or gold.

We enjoy creating unique pieces in commemoration of a bride and groom's wedding day.

We will work with you to create special pieces that will complement the theme and colors of your wedding:

They can include a headdress or jewelry piece for the bride with matching-colored cufflinks and tie-pin for the groom;

Special jewelry pieces in the wedding color scheme for the bridal party attendants and the family;

Memorable keepsakes of the event in the wedding theme and colors for wedding guests.

Jewelry, cufflinks, necklaces, brooches, stick pins, tie-pins and tiaras, and ornaments.

Please visit Henning Porcelain to view other examples of my work or to contact me.


Join in and write your own page! It's easy to do. How? Simply click here to return to Maine artisans and crafters listing.
Copywrite 2011 Maine-wedding-ideas.com